ADVOS – ADVANCED ORGAN SUPPORT
The ADVOS procedure from ADVITOS is an innovative system for treating multiple organ failure in intensive care units: the world's first dialysis treatment for acid-base homeostasis that comprises four organ support therapies.
Hohe Benutzerfreundlichkeit des Informationspanels
Benutzerfreundliches, intuitives Informationspanel mit dialyseähnlicher Menüführung
Helligkeitseinstellung des Bildschirms möglich, wodurch Patienten nachts weniger beeinträchtigt werden
Grundlegende Einstellungsparameter sind alle innerhalb von einem Screen anwählbar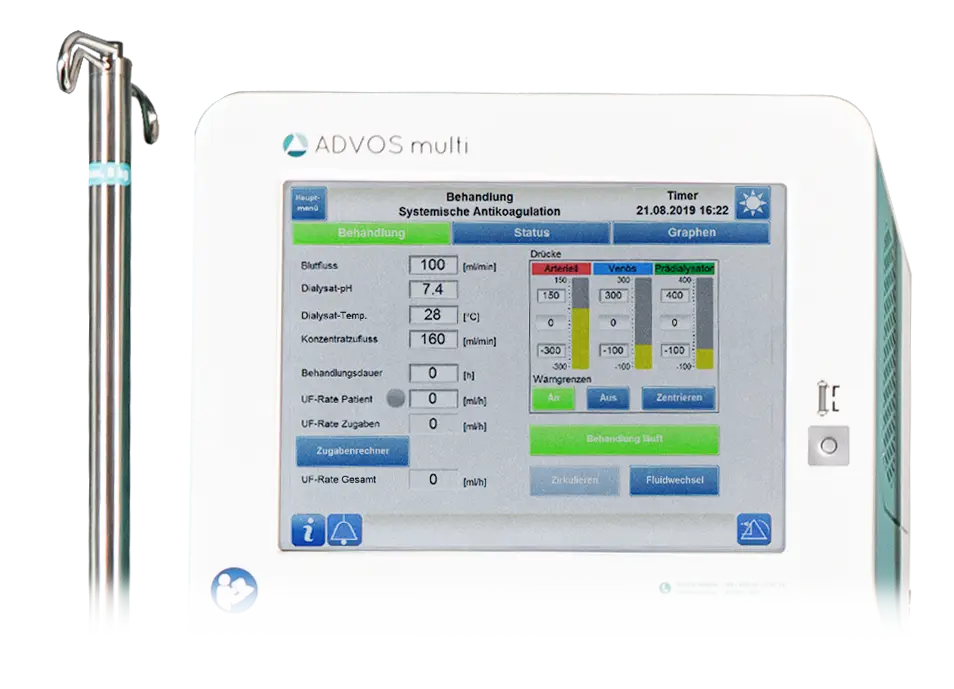 Videobasierte Unterstützung
Schneller Aufbau und einfache Bedienung durch videogestützte Anleitungen
Schritt für Schritt Anleitung mit hohem Detailgrad
Videos können jederzeit angewählt werden, sind aber nicht verpflichtend für die Therapie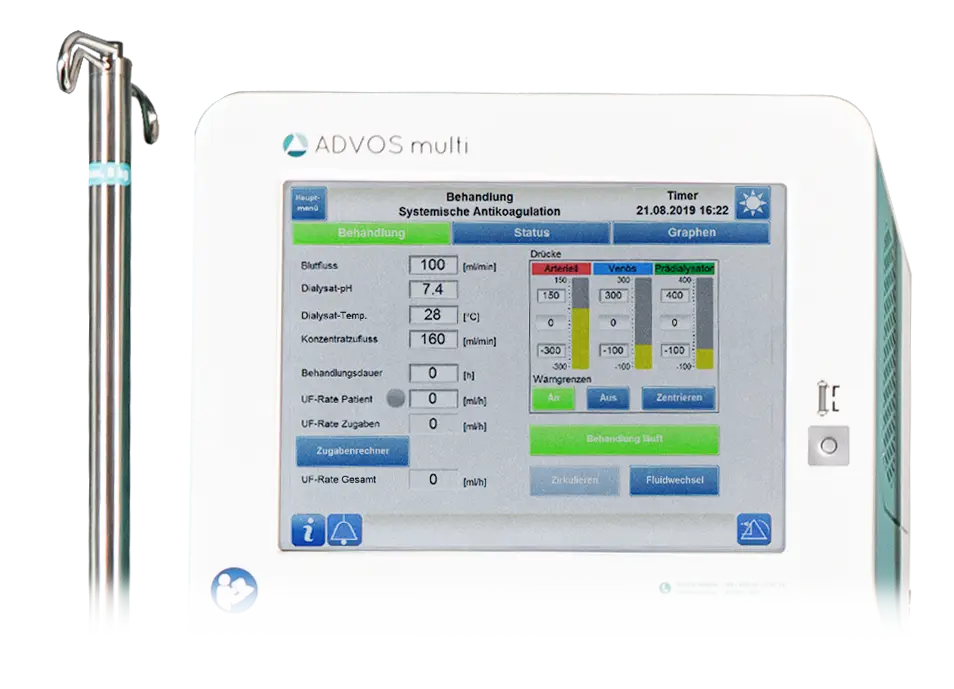 24 h Service Hotline für Kunden
24 h Service Hotline für Kundenrückfragen

DE 0800 43 72 92 74
AUT 0800 44 77 07

Service Hotline wird von Mitarbeitenden von ADVITOS beantwortet, nicht von externen Call Centern
Kostenlose Hotline 24/7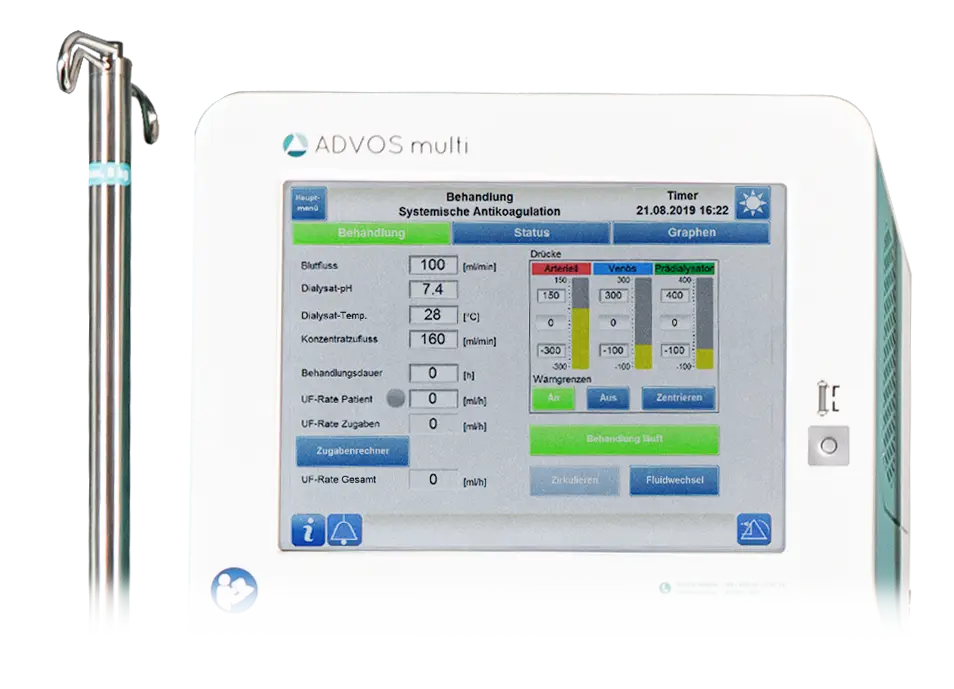 Geringe Benutzerinteraktion
Geringe Interaktion des Anwenders während der laufenden Behandlung erforderlich
Schlauchset muss während der Behandlung nicht gewechselt werden, auch nicht bei Antikoagulationswechsel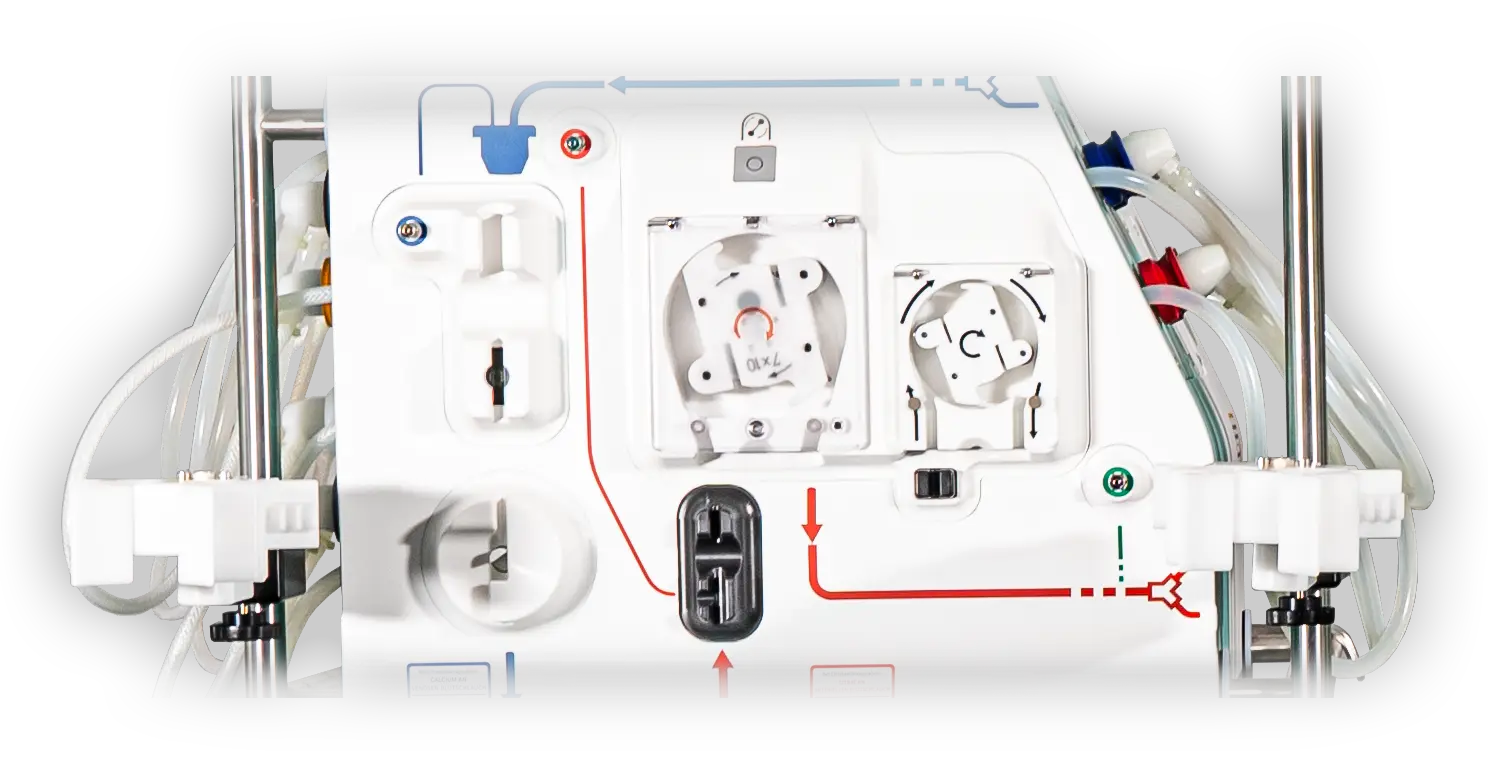 Individuell einstellbare Blutflussraten
Blutflussraten von 100 bis zu 500 ml/min zur Maximierung der Toxinentfernung
Insbesondere für kleine Moleküle, wie z. B. H+ sind hohe Blutflussraten hilfreich
Bei kreislaufinstabilen Patienten sind niedrige Blutflussraten einstellbar
Blutfluss anpassbar an Indikationen und Zugangsmaterialien in den Kliniken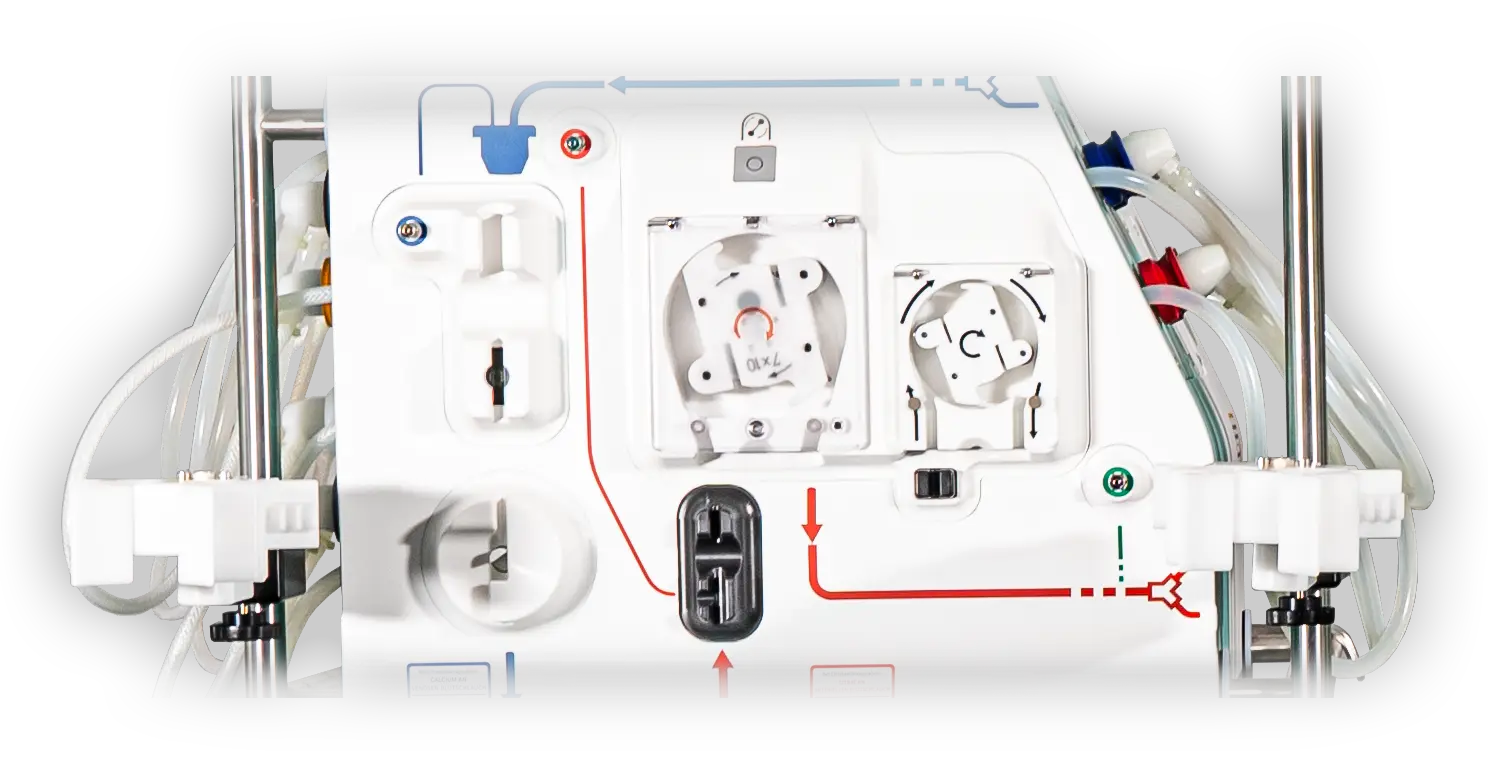 Systemische und regionale Antikoagulation möglich
Systemische (z. B. Heparin) und regionale Antikoagulation mit Citrat möglich
Antikoagulationswechsel zwischen Citrat und systemisch kann während der Behandlung vorgenommen werden
Schlauchset muss bei Antikoagulationswechsel nicht gewechselt werden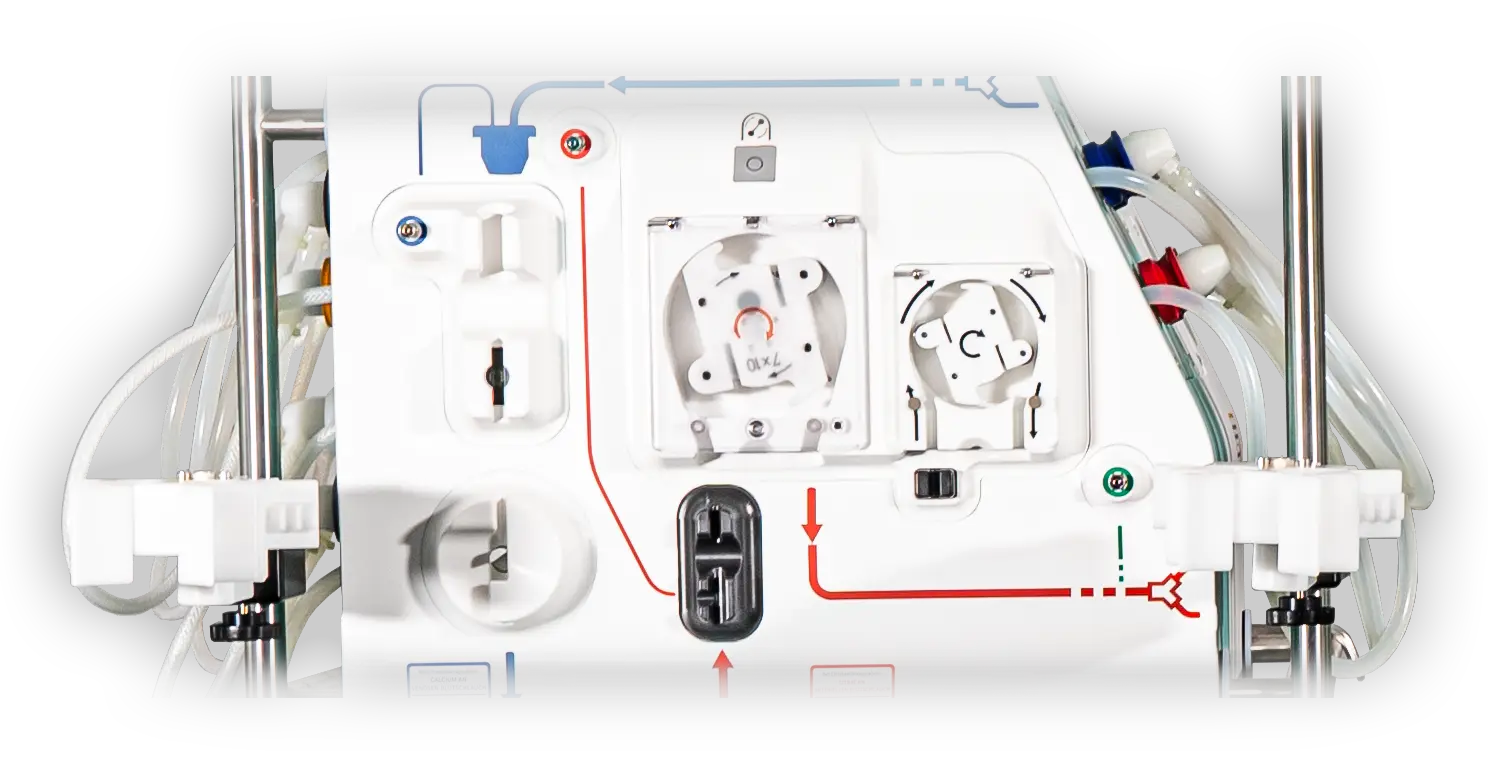 Behandlungsdauer bis zu 24 Stunden
Intermittierende oder kontinuierliche Behandlung möglich
Standardbehandlungsdauer von bis zu 24 Stunden
Einmalige Zugabe von Humanalbumin (200 ml 20 %) in 24 Stunden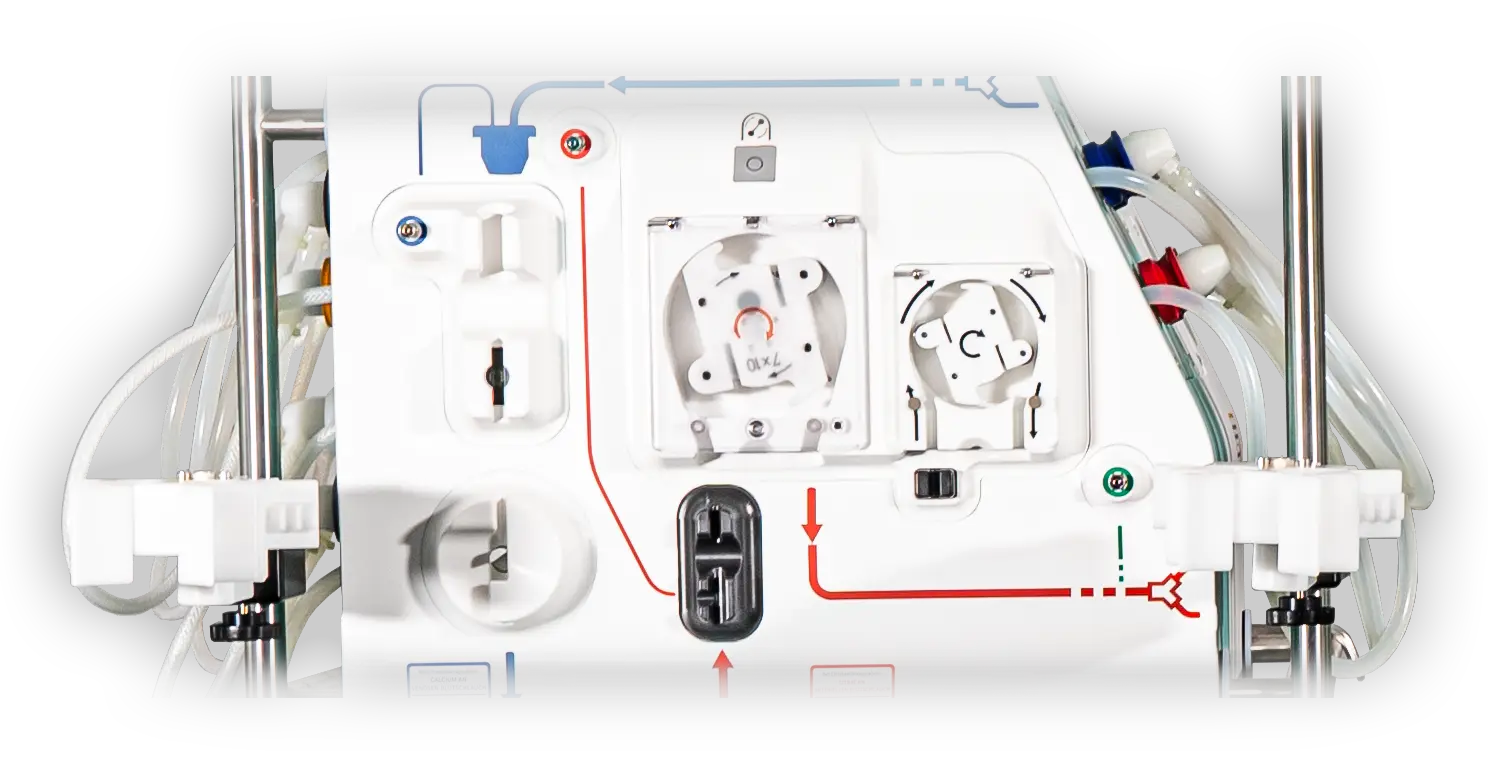 Flexibles Flüssigkeitsmanagementsystem
Flexibles Flüssigkeitsmanagementsystem, das den Anschluss an eine Umkehrosmose am Behandlungsort überflüssig macht
Container mit 85 l Füllkapazität macht einen häufigen Beutelwechsel überflüssig - Container muss während der Behandlung abhängig von den Einstellungen erst nach bis zu 8 Stunden gewechselt werden
Externe Pumpeneinheiten zum Befüllen und Entleeren des Containers – eliminiert die Notwendigkeit, die Permeat- und Filtratbeutel manuell zu füllen und entleeren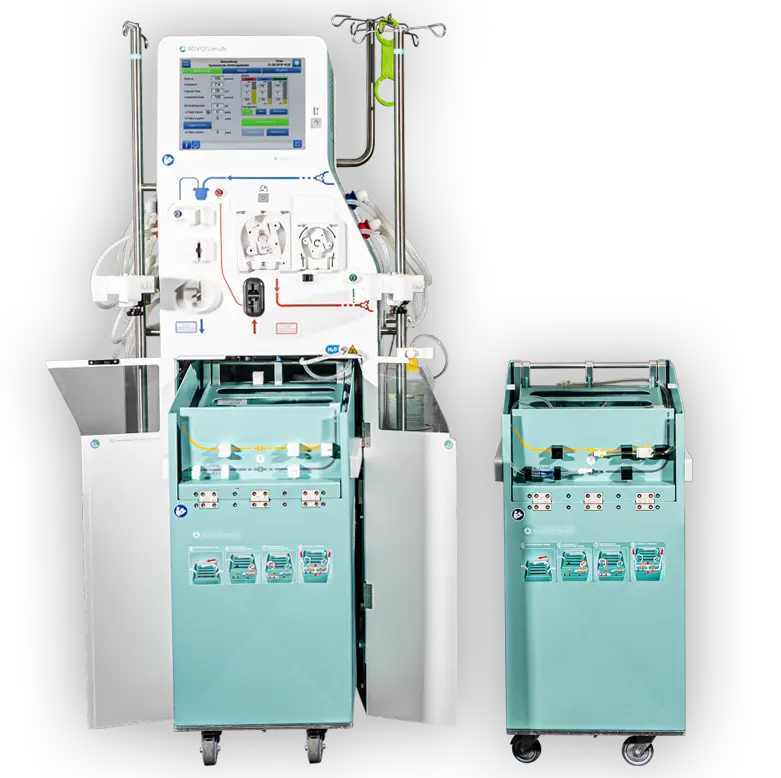 Anschluss für Citro-Desinfektion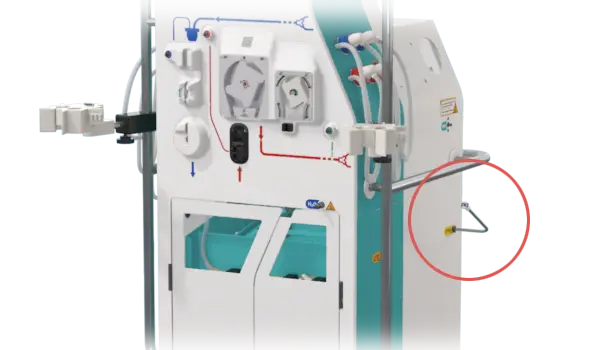 More Chances of Survival for Intensive Care Patients
The ADVOS therapy simultaneously supports the kidneys, liver and lungs and additionally provides blood pH regulation in a single device. This can significantly increase the survival rate of patients in intensive care.
The ADVOS Therapy
ADVOS multi – One Device, Many Benefits
The ADVOS multi developed by ADVITOS is an integrated multi-organ support device that allows fully customisable treatments focusing on one or more detoxification organs.
ADVOS multi
ADVITOS – Innovative Medical Technology from Munich
The ADVOS therapy from ADVITOS is CE certified and patented worldwide. Our vision is to establish effective organ support and acidosis therapies as the standard of care for millions of intensive care patients worldwide.
ADVITOS - About Us
ADVITOS – Awards & Memberships