Targeted Multiple Organ Support
The ADVOS multi is an integrated multiple organ support device that enables fully individualised treatments with a focus on one or more leading organs, offering users the following benefits:
Click on the red dots to find out how the ADVOS multi works in the 3D model.
High user-friendliness of the information panel
User-friendly, intuitive information panel with dialysis-like menu guidance
Brightness adjustment of the screen possible, making it less disruptive to patients at night
Basic setting parameters are all selectable within one screen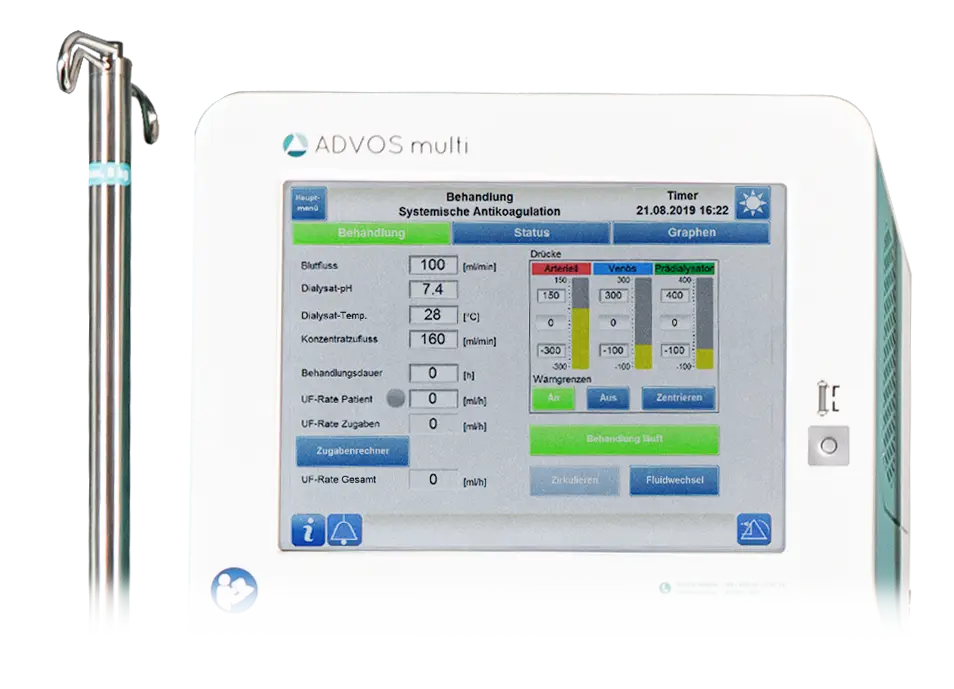 Video-based assistance
Quick set-up and easy handling with video-based instruction
Step-by-step instructions with a high level of detail
Videos can be selected at any time, but are not compulsory for therapy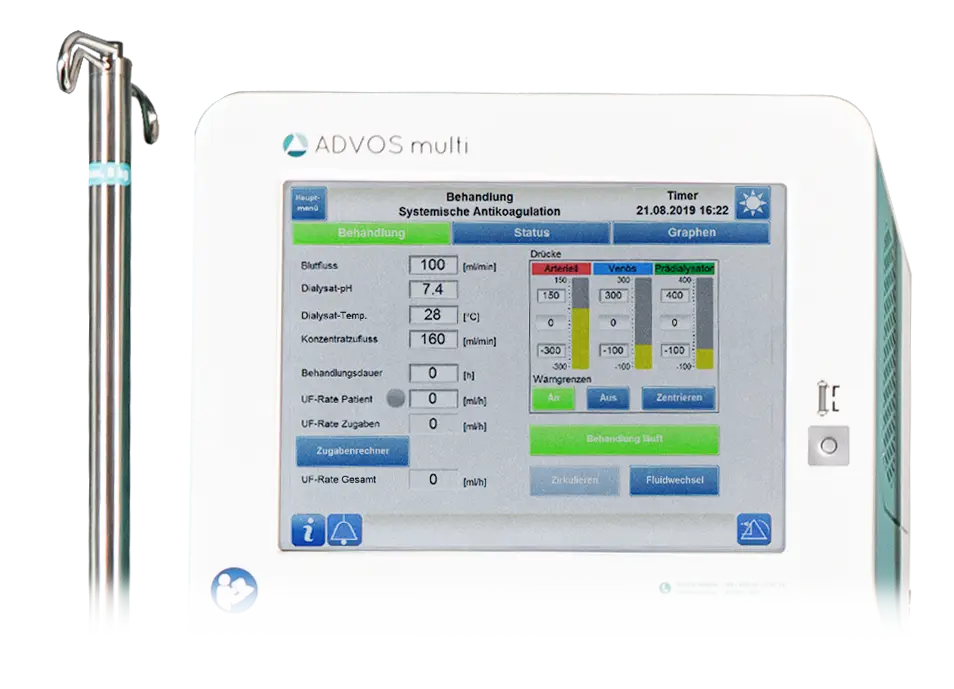 24 h service hotline for customer
24 h service hotline for customers queries

DE 0800 43 72 92 74
AUT 0800 44 77 07

Service hotline answered by ADVITOS staff, not by external call centres
Free hotline 24/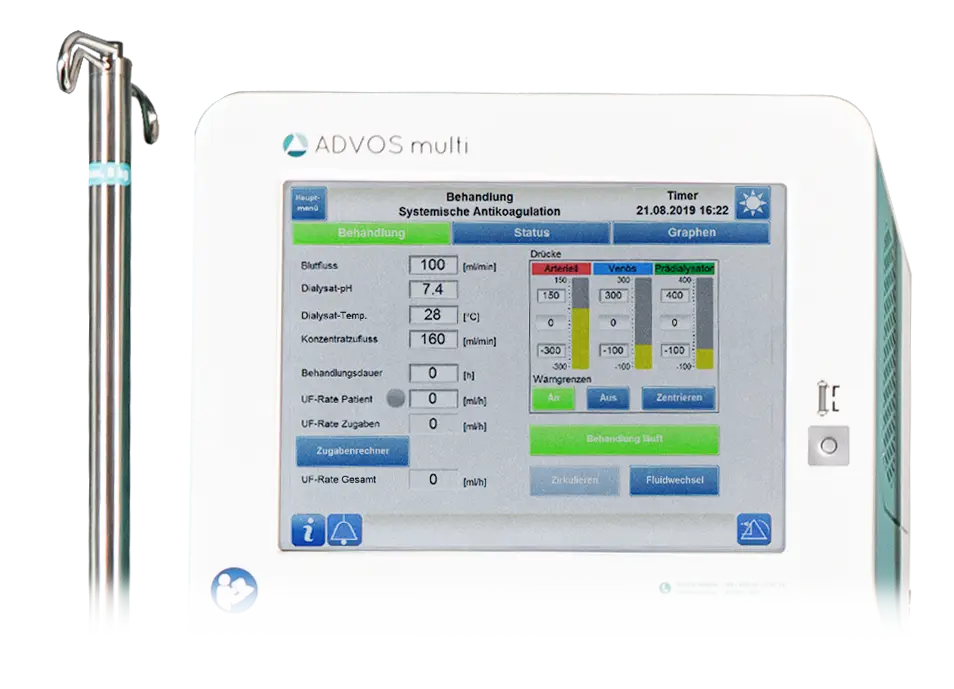 Little user interaction
Little user interaction required during ongoing treatment
Tubing set does not need to be changed during treatment, even if anticoagulation is changed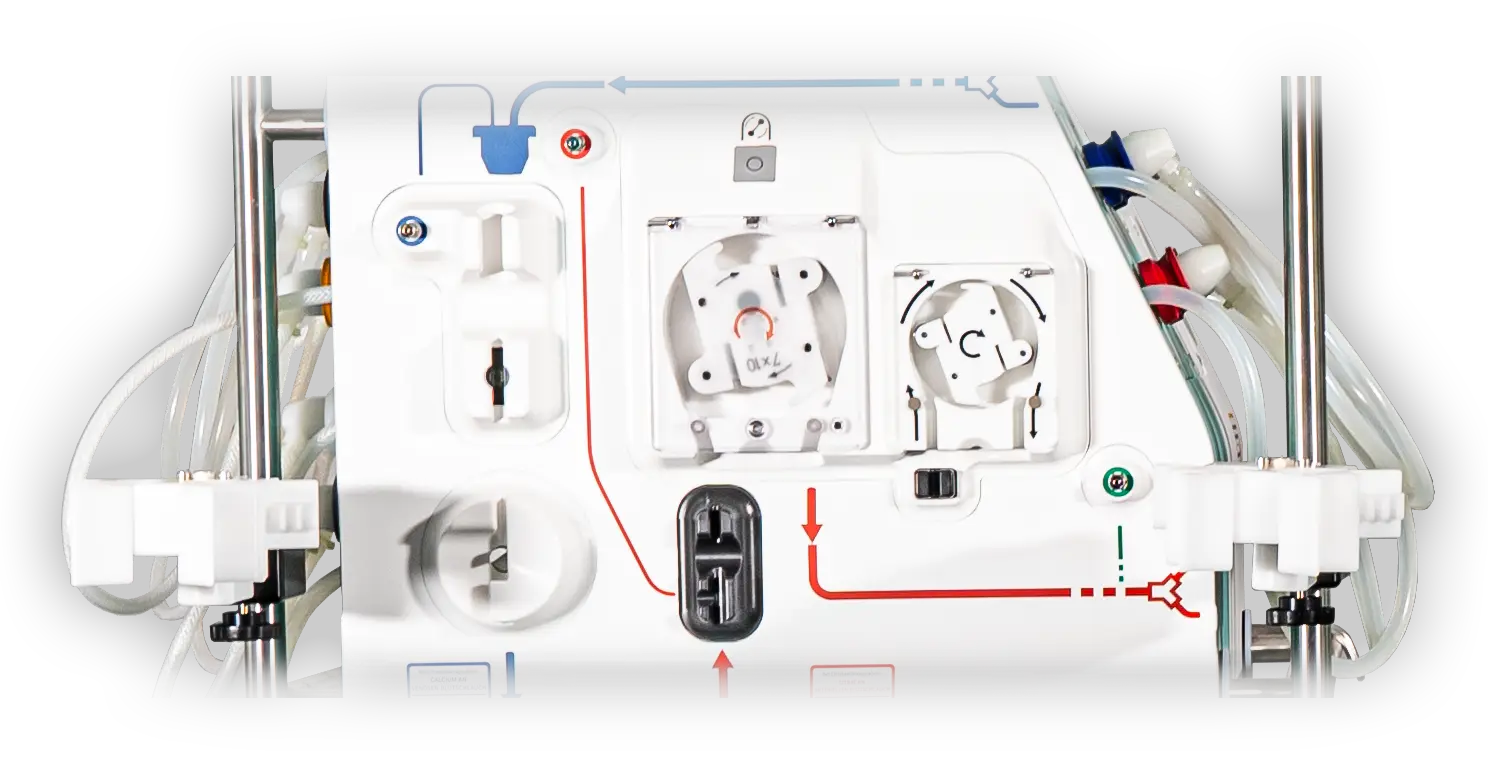 Individually adjustable blood flow rates
Blood flow rates from 100 up to 500 ml/min to maximise toxin removal
High blood flow rates are particularly useful for small molecules such as H+
Low blood flow rates can be set for patients with circulatory instability
Blood flow adaptable to indications and access materials in hospitals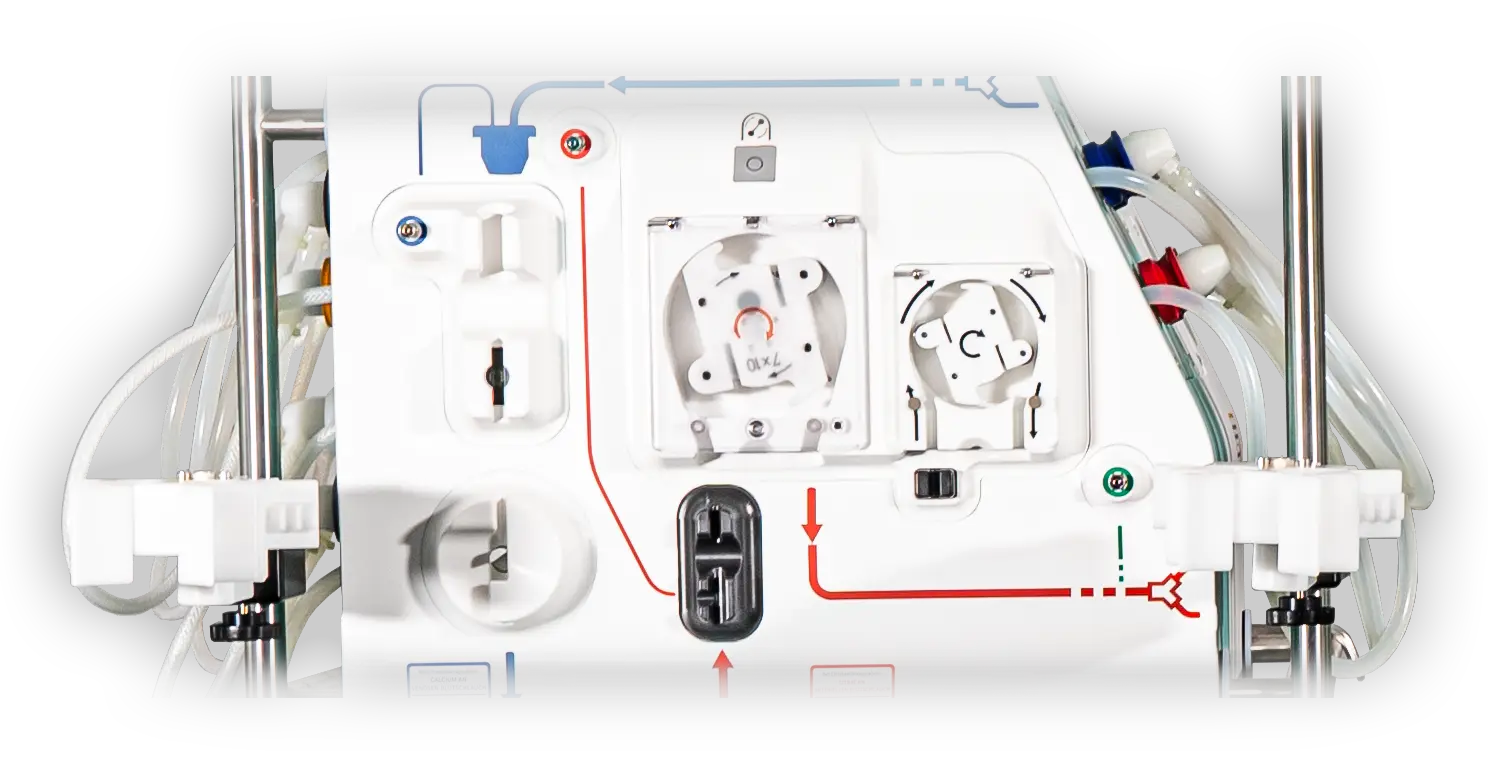 Systemic and regional anticoagulation possible
Systemic (e.g. heparin) and regional anticoagulation with citrate possible
Anticoagulation can be changed between citrate and systemic anticoagulation during treatment
Tubing set does not have to be changed when changing anticoagulation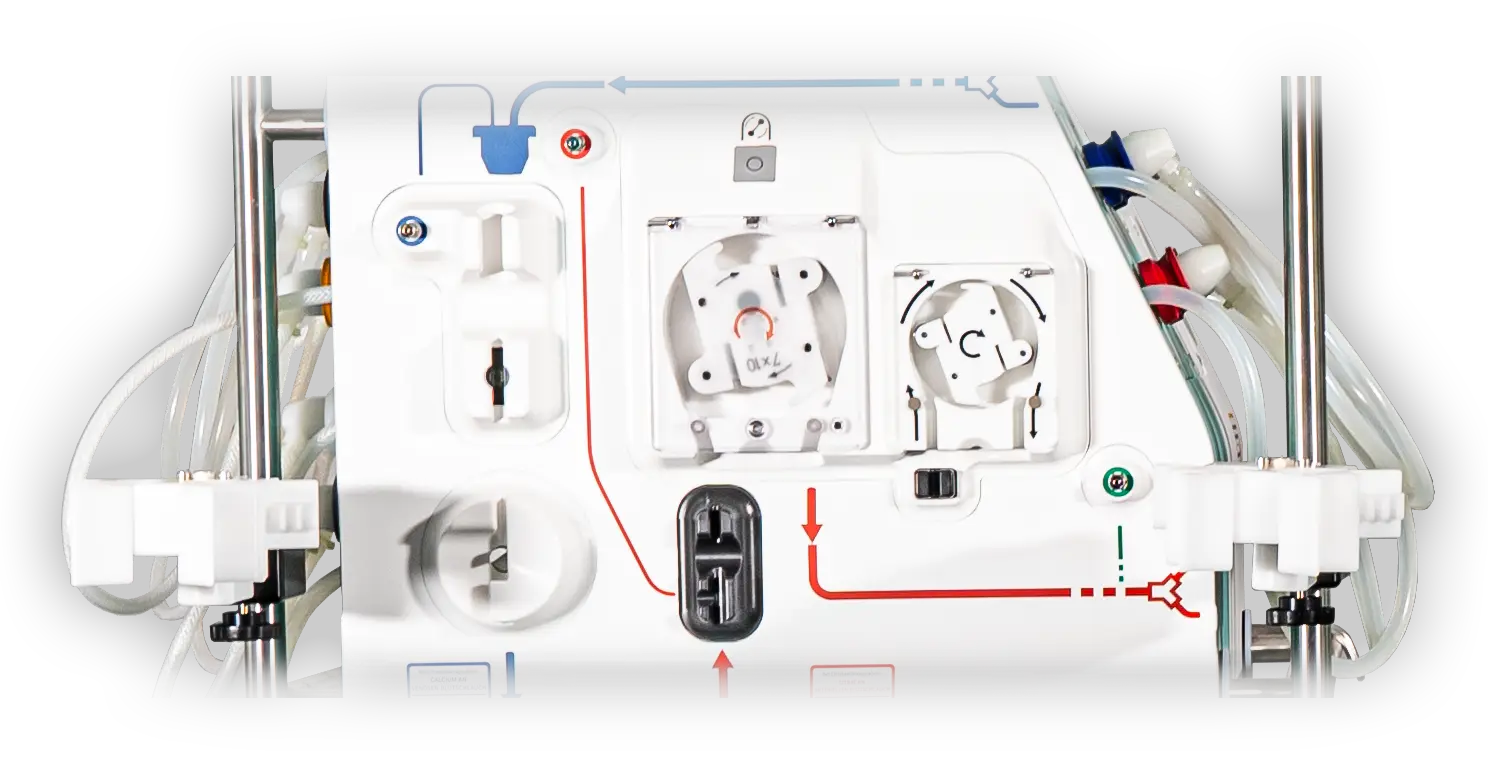 Treatment duration of up to 24 hours
Intermittent or continuous treatment possible
Standard treatment duration of up to 24 hours
Single addition of human albumin (200 ml 20 %) in 24 hours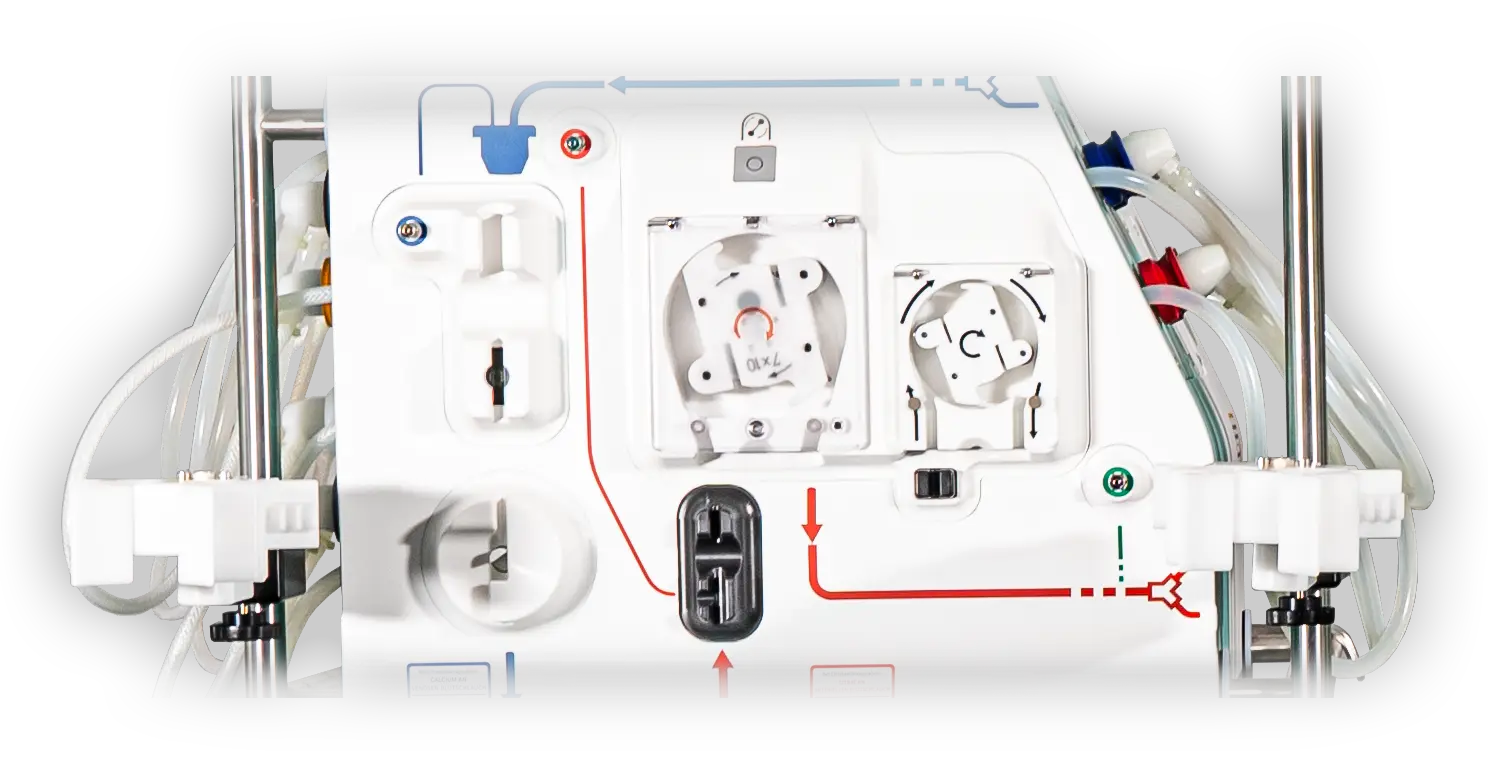 Flexible fluid management system
Flexible fluid management system that eliminates the need to connect to a reverse osmosis system at the point of treatment
Container with 85 l filling capacity eliminates the need for frequent bag changes - container only needs to be changed after up to 8 hours during treatment, depending on settings
External pump units for filling and emptying the container - eliminates the need to manually fill and empty the permeate and filtrate bags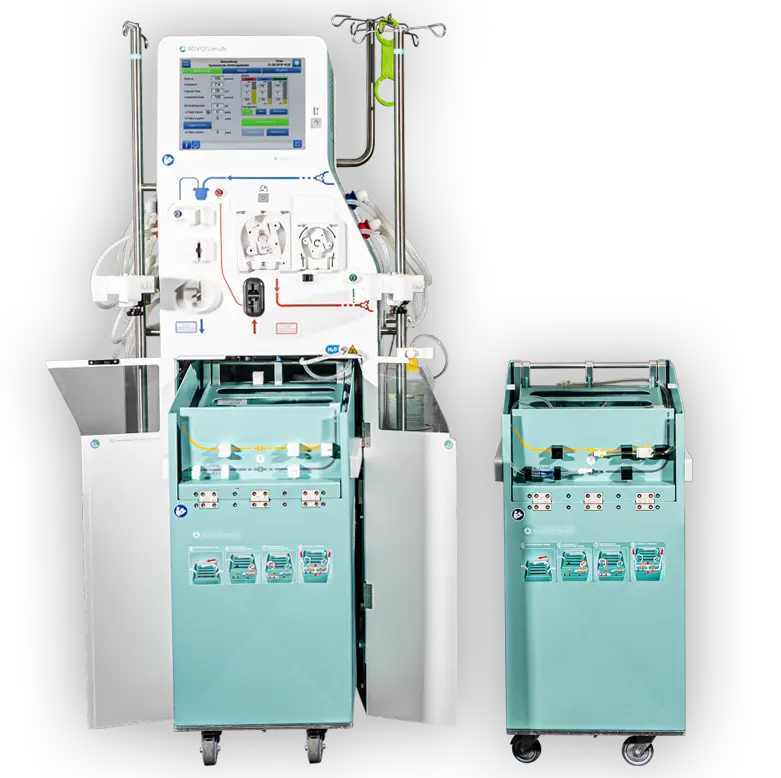 Connection for citro disinfection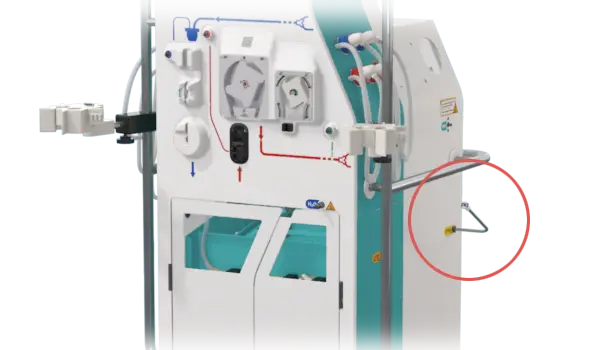 Height: 172 cm
Width: 66 cm
Depth: 84 cm (storage location item) 101 cm (work item)
Footprint: 62 cm x 63 cm
Empty weight: ADVOS multi 170 kg
Empty weight: Container 34 kg
The optimum operating environment for the ADVOS multi includes the following additional equipment:
Ideally, the containers should be filled from a closed circular pipeline with the help of the WDI filling unit.
ADVOS multi may only be operated with the corresponding containers and suitable permeate and filtrate bags.
ADVOS multi and the Benefits for Users
Extracorporeal blood purification for simultaneous support of the primary excretory organs.
The ADVOS method is an innovative blood purification technology and represents a further development of conventional dialysis machines.
Instead of normal dialysate, dialysate enriched with human albumin is used, which enables the selective removal of certain toxins by specifically adjusting the pH value of the dialysis fluid. Within the machine, the dialysate is permanently processed and freed from toxins to achieve a consistently high detoxification performance.